Operating Room Panel
TM-OK-INT
---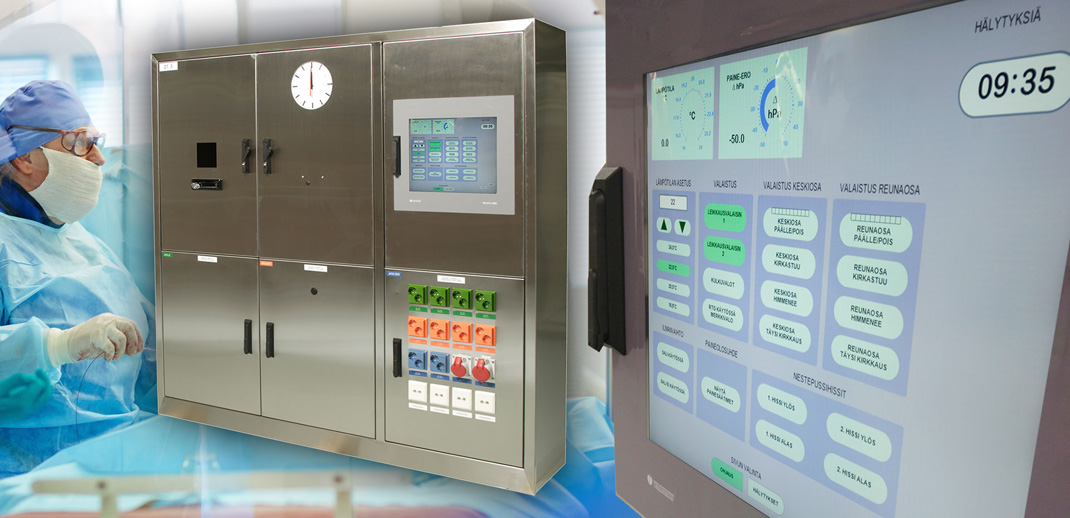 Operating Room Panels are manufactured according the project and control specifications of the operating room.
Control Panel system includes customized enclosure, equipment and electrical installation and an integrated control system TM-ETC-AMS with 17-19" touch screen. The enclosure is out of stainless steel, cold rolled steel and powder painting as an option.
The customized stainless steel structure is designed either for surface or flush mounting depending on application
Integrated control system TM-ETC-AMS includes the control functions for illumination, temperature, humidity and air conditioning, operation time, USB music application and different alarms.
Equipment and electrical installation includes e.g. socket-outlets for appliances, an interphone, operation lamp control, a CD and radio player, operating switches and compartmented group switchgears.
Operating Room Panels are certified by SGS Fimko.
TECHNICAL SPECIFICATIONS

Standard solution

Alternative solutions / further information

Installation method
flush
surface, to the floor
IP-class
IP-30
covers and hatches equipped with gaskets
Case material
stainless steel
painted steel
Cover material
stainless steel
painted steel, aluminium
Locking
latch
screw, ball latch, serial lock
Colour
vertically brushed stainless steel
white, grey, black, architect colours
Markings
back-engraved plates
tape fixing, colours according to Standard 4372
Wires
connected to the terminal block according to SFS 6000-7-710
Fittings
Integrated control system

other fittings according to the functions, for example: clocks, RTG cabinet, telephones, socket-outlets, IT network group switchgear, residual-current device

Type designations
TM-OK-INT
Dimensions (width, height, depth)
freely selectable

ACCESSORIES

Standard solution

Alternative solutions / further information

Protective cover
transparent
painted steel
Footing
upper and lower on-state
Markings / diagrams
coloured permanent membrane
serigraphy, engraving
FURTHER INFORMATION
Contact us