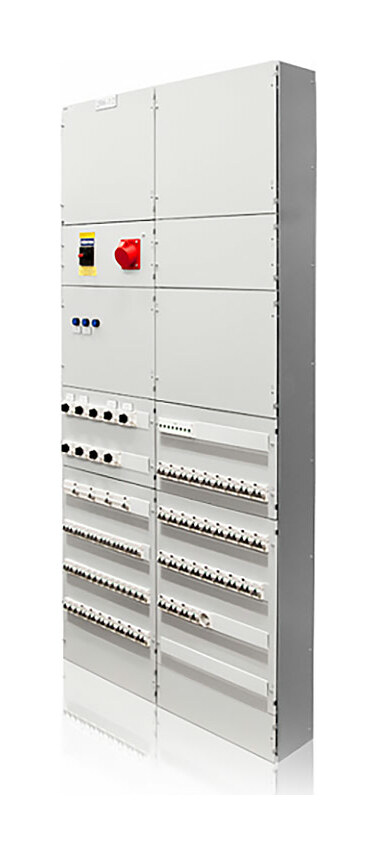 Ram
The BUILDINGS Frame system has been designed as a centre for dry spaces up to 1000A. The centre is suitable for commercial, industrial and residential construction. The sheet metal sections of the centre are made of hot galvanised steel plate. The structure uses high-quality, modular components with DIN mounting brackets that can be changed easily.
The modular structure enables an almost unlimited number of different centre sizes that make our frame the most versatile structure on the market! The structure is available in several depth and height alternatives. The centre can be assembled as a single-field option or an assembly comprising several fields according to customer needs. The centre can be fastened on a wall resting on vertical beams, or on the floor with a separate plinth.
If necessary, the centre can be manufactured with a transport block that facilitates transport and handling. Separate cable chutes can also be used.
Technical specifications:
Rated flow IN: up to 1000A
Design voltage Ue: 400-1,000V
Nominal frequency: 50/60Hz
Ability to withstand short-circuit: Icw 24 / Ipk 50.4
EMC environment: A and B
Internal compartmentation: 3 and 4
Impact resistance: IK09
Cabinet class: IP 20-30
Colour: RAL7035 (other colours by special order)
Plinth: available
Cover door: available
Dimensions:
Field widths: 300, 450, 600 mm
Heights: 140, 280, 420, 560, 700, 840, 980, 1120, 1400, 1680, 1960 mm
Plinth: +40 or 140 mm
Depths: 80, 160, 250, 320 mm
Standards:
Distribution centres: EN 60439
Cabinet: EN 62208
Sealing: EN 60529
Impact resistance: EN 62262
Low-voltage electrical installations: SFS 6000