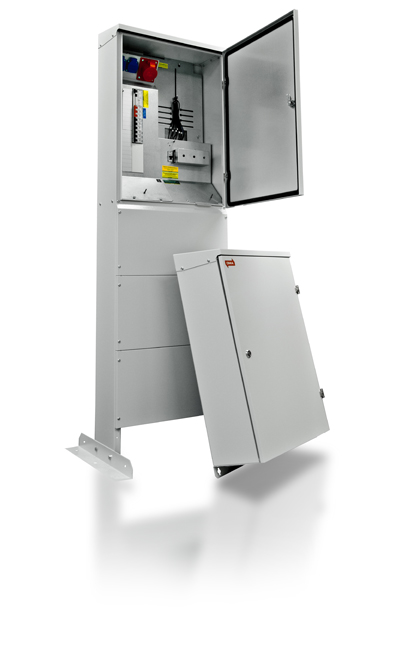 Custom outdoor metering centres
Products in total: 8
Features:

• Measurement before the main switch (voltage is not disconnected from a remote-access meter)
• Feed and distribution space has covers that can be detached easily
• Large feed and distribution spaces
• Sturdy hinges
• Detachable feed flange
• Extensive range of optional equipment

The OMA outdoor metering centres are suitable for use as a main and metering centre in small properties and for electricity distribution during construction. The centres are made of hot galvanised steel plate that, together with the right design, guarantees a sturdy and safe structure and good usability. The delivery includes a sealing cover for the main fuse, a tariff control fuse, the necessary feed-through holes, Al/cu connectors for supply and a rain shelter.

The centres can be installed as needed, on the wall, in a column or on an optional stand. The centres are suitable for both surface and flush mounting (for flush mounting we recommend a flush frame).


Alternatives for every need:

• Affordable basic model with only a main switch
• 25A and 50A models
• 25A and 50A models with a fixed stand
• 50A and 80A models for semi-detached houses

The same cabinet structure is also equipped with new reserve power centres!
SSTL number

Name

Product description

In

Installation